Every year, Microsoft release two "waves" of new features for the Power Platform and here at Bespoke, we've been eagerly reading up on all the latest changes in the second wave for 2023! There was a tonne of announcements, and in this post, we'll explore some of our favourites along with how we think they will benefit our client.
Our technology consultants have also weighed in with their own favourite features.
Power Apps
1. Quickly create data-connected apps with rich, responsive layout templates
By March 2024 (in preview), we'll see pre-built templates for the most common application use cases, which will be a real accelerator in terms of app development.
What does this mean for our clients?
Apps become easier to build for 'citizen developers' and less time is spent on developing the user interface, all leading to a quicker solution delivery!
2. Enjoy the new look and feel for model-driven Power Apps
From October 2023, we'll see a fresh look and feel for model-driven applications which will make use of Fluent UI, giving a more consistent look and feel across other Microsoft Apps.
What does this mean for our clients?
A more familiar and intuitive layout across applications will make adopting new apps and services a much more seamless experience for the end user.
3. Use Copilot to build and Edit apps in Power Apps Studio
In Preview, from October 2023, App makers (whether you're seasoned or citizen developer) will be able to make use of Copilot to build and edit apps using natural language e.g. change the text to size 18, make my table blue, make this text bold…
What does this mean for our clients?
For new app makers, this should make app editing easier, and for those who are already proficient, certain tasks will get quicker!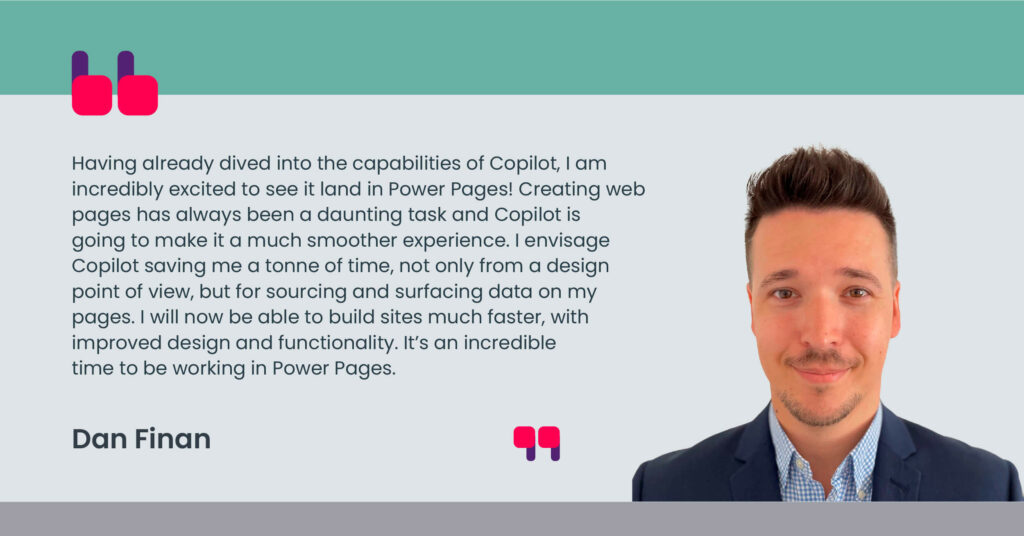 4. Debug canvas apps more quickly and efficiently with 'Monitor Tool' improvements.
Monitor debugging tool exists today and its widely used by makers to diagnose and fix problems with their apps. Further improvements are planned, largely around the discoverability, quality and relevance of the data, and UI improvements to facilitate interrogating that data.
What does this mean for our clients?
For clients who have built their own apps and might be struggling with debugging, the Monitor Tool improvements will certainly help with that process, leading to a quicker resolution time.
Power Automate
1. Process Advisor
Announced at Microsoft Inspire 2023, Power Automate Process Mining will be generally available on August 1, 2023. The functionality will empower customers to identify bottlenecks in processes and continuously improve them. Process maps, AI-powered root cause analysis and deep process insights will allow customers to uncover inefficiencies and opportunities for automation, from core line-of-business apps like SAP and from cloud flows in Power Automate, Power Apps, Power Virtual Agents, Azure (DevOps, Logic Apps, Durable Functions, Bot Framework), and other systems of records.
What does this mean for our clients?
By honing in on process improvement, we're expecting to see our clients' businesses flourish even further due to the amount of time and effort saved with this new tech.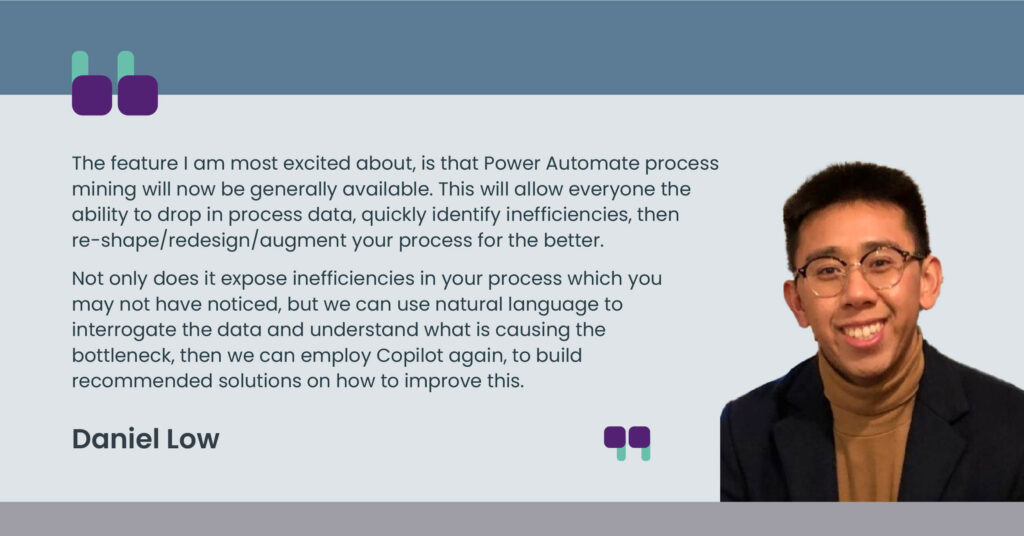 Power BI
1. Use Loop to share Power BI Charts into Microsoft 365
From March 2024 (in preview), this feature will allow you to easily copy and paste your Power BI charts into a Microsoft 365 document. After you paste the chart into a Word or PowerPoint document, the chart is still fully interactive, allowing your users to easily slice and dice the data.
What does this mean for our clients?
Simply put, this will allow you to embed charts into other documents, maybe more familiar to a wider audience or used for specific purposes like Word documents and PowerPoint presentations.
2. Connect to Organisational Data and create a semantic model in the Power BI service
Currently Power BI data models need to be built using Power BI desktop. This will allow the creation of data models in a web-first adoption approach. This includes the Power BI Service (web) supporting all the existing data connectors available in Power BI Desktop. Microsoft have stated this is their first milestone to bring Power BI Desktop parity to the web, so expect further developments in the Power BI Service.
What does this mean for our clients?
Rather than relying on Power BI Desktop, licensed users will now be able to connect to and create data models within the web browser, greatly improving ease of use/access to the platform.
Power Virtual Agents
1. Use Dataverse and Internal SharePoint content as a source for AI-created generative answers
From October 2023, Power Virtual Agents will be able to utilise data held within Dataverse and internal SharePoint sites, including SharePoint web pages, Word, PowerPoint, and PDF files. As we understand it, the functionality should be security trimmed so that the bot user can only see information from documents or Dataverse records they have access to.
The capability will make use of natural language understanding (NLU) and large-language model (LLM) AI technology to intelligently create a fully conversational response to a user's query – without your bot makers first needing to manually create individual topics for every eventuality.
What does this mean for our clients?
Not only will this make creating chatbots a lot easier, but it will also provide an even richer end-user experience. Rather than defining all of the potential topics that you wish your Chatbot to cover, the AI model will intuitively be able to talk about them.
Power Pages
1. Copilot
This is actually three new features rolled into one! In October 2023, we'll be able to create a Power Pages website using Copilot and utilise Copilot Q&A capability to get answers and tips on building a site, with answers summarising the wealth of information on Learn, community sites and other key resources. Then in November, we'll get a public preview of a feature to enable Copilot for Power Pages site users – site users can directly interact with the site Copilot and ask for help to complete actions like filling simple forms with basic validation in place, finding and getting redirected to resources on the website, and more.
What does this mean for our clients?
Not only does this make Power Pages much easier to create, it'll also be a much-improved experience for the customers using your site.
AI Builder
1. Iterate model version and rollback model state
In preview, from March 2024, supporting multiple versions of the same model will enable you to compare the performance of different models for the same scenario, allowing iterative fine-tuning and rollback of model state. Microsoft see this as widening the adoption of AI Builder through facilitating enterprise production processes that require fine-tuning models based on new data.
What does this mean for our clients?
Simply put, this is a way of improving the AI model's output by fine tuning the models by comparison.
2. Detecting personally identifiable information
In preview, from March 2024, AI Builder will provide a pre-trained model that allows you to add personally identifiable information (PII) capabilities to your automation workflow. This model facilitates the ability to process and remove PII from documents.
What does this mean for our clients?
A huge tick for any GDPR requirements, right?
We're very excited to see these new features rolled out to the Power Platform, even more so for our clients. With AI driving the Power Platform's evolution, we're expecting only amazing things moving forward. The above examples are merely a handful from the extensive release list from Microsoft, so if you're keen to further explore what's coming up then please do reach out to the team here at Bespoke.