We often receive questions from clients and organisations who are either curious about Power Apps or keen to see how Power Apps could help them overcome a problem or goal.
Power Apps is a Microsoft tool that allows you to create custom apps to suit your internal business needs, using many features of the Office 365 and Microsoft platform. With Power Apps, users can quickly build apps that connect directly to their business data, whether it's stored in the underlying data platform (Microsoft Dataverse) or in various online and offline data sources such as SharePoint, Microsoft 365 or Dynamics 365, etc.
Thanks to its easy-to-use drag-and-drop interface, users can add different controls like text fields and choice fields, as well as media, forms and screens however they please. Once an app is created, users can simply publish it and share with anyone in their organisation.
Overall, Power Apps are a pretty incredible way for businesses to take the app-building process into their own hands.
Two Main Types of Power Apps
There are two main types of Power Apps you'll come across – model-driven apps and canvas apps.
Model-driven apps
A model-driven app design is one that is largely made up of components. They have rich design capability, but don't require any code – the layout is mostly determined for you depending on which components you decide to add to the app. Model-driven apps can be very simple or very complex, and are also responsive, with the ability to perform across a variety of devices from desktop to mobile.
Canvas apps
Canvas apps also don't require any code in a traditional programming language, but they do allow the designer to have a little more control over the app layout than model-driven apps.
The app is built on a canvas in Microsoft Power Apps by dragging and dropping various elements, just as you would a PowerPoint slide. Excel-like expressions can be used to specify logic and process data. Canvas apps allow you to integrate your business data from a wide range of Microsoft and third party sources.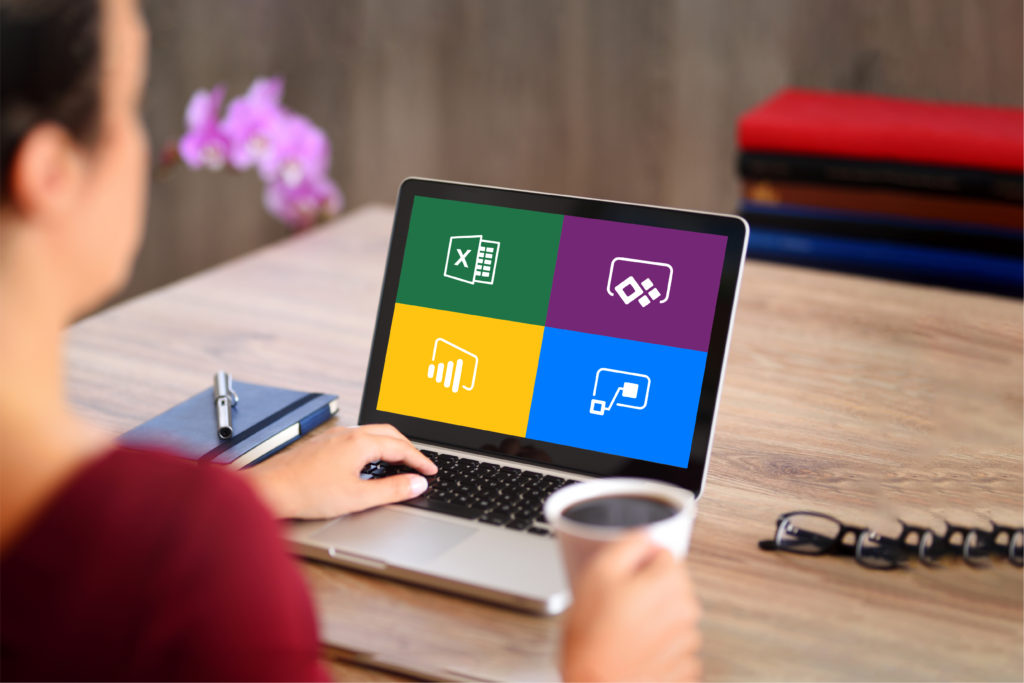 5 Reasons to try out Power Apps
Hopefully you'll already be intrigued by what Power Apps could do for your business. But if you need a little more insight, here are five of our main reasons to start experimenting with them.
Automate manual business processes
Thanks to its rich business logic and workflow capabilities, Power Apps can be used to automate, streamline and digitise a variety of business processes. By reducing repetitive manual tasks and improving business outcomes, Power Apps is taking productivity to new heights.
Responsive & adaptable – no code required
Power Apps is all about making the custom app-building experience accessible to all, without needing to write a single line of code. Apps created typically have a responsive design, and there is an extensible platform for pro developers where they can interact with data and metadata, apply business logic and integrate with external data.
Historically, mobile app development has also always required creating different versions of an app for each operating system (iOS, Android and Windows). This can be extremely costly and time consuming for businesses, increasing their development resources. With Power Apps, your custom apps will all run through the Power App app, which takes care of the differences between operating systems for you. It essentially acts like a container for your app, enabling it to run effortlessly across all browsers and operating systems.
Can be used by developers & non-technical employees alike
While Power Apps can be used by developers, it can also be used by non-technical employees such as business analysts or IT managers. This means that theoretically, almost anyone within an organisation has the ability to create their own custom app.
It's worth noting though that users will need to have some technical understanding and experience of the tools and data they are working with. But it certainly opens many doors for lessening pressure on certain teams and limiting additional design costs. There's always the option to bring in more qualified developers should you need to work on more complex functionality.
Powerful integrations with the rest of the Microsoft suite
A key strength of Power Apps is its ability to integrate with other Microsoft tools and services, particularly Office 365 and Microsoft Dynamics 365. This means if your business has processes that use specific parts of the Microsoft suite, such as SharePoint or Excel, then a custom app built with Power Apps has the ability to bring them all together in a more streamlined, convenient experience.
Power Apps also allows for further integrations with external tools and services, meaning there's plenty of scope for more nuanced capabilities.
Make sure app is completely suited to your business' needs
The beauty of building your own business app is that you can make sure it is completely tailored to the needs of your organisation and employees. Whether it's adapting to the way your teams like to work or addressing a particular pain point, Power Apps' vast number of tools and features ensure you can build a solution that works for you.
Need some help making Power Apps work for your business? Talk to our team who can help you get set up today.