Name: Beckie
Role: Chief Operating Officer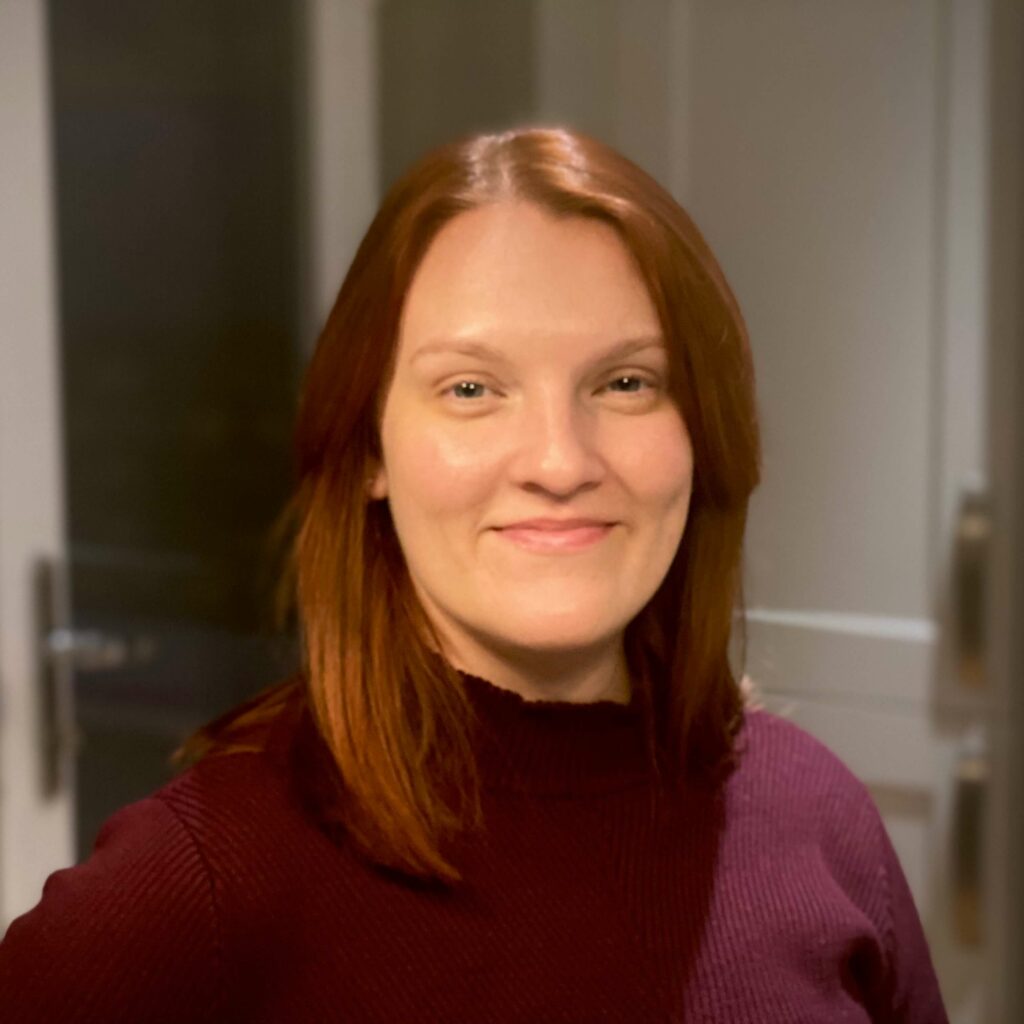 What is your job title and in summary, what do you actually do?
Chief Operating Officer – I am responsible for delivery at Bespoke. This includes:
how we deliver our projects,
the people delivering them,
the systems and tools we use to support our team,
the processes we use, from hiring to development methodologies,
the commercials and budgets that are needed to support the team and projects.
What I do differs every day, which is why I like it. I coach, support, and challenge our team in each of the areas above to enable us to deliver high quality solutions. I'll also research and create momentum to adopt new ways of working, that will enable us to continually improve and grow as a business.
What are you happiest doing, when you're not working?
As I sit at a desk most of the day, I like to be active when I'm not working, be that walking the dog, or doing Yoga, or going for a Bike ride. When I'm relaxing, I like to read or watch a good TV series. I love medical dramas so I'm currently waiting for the next episode of Greys Anatomy.
What's the most inspiring part of your job?
Seeing the people who I've trained and coached, grow and develop their skills. Then taking on bigger and more challenging roles and succeeding.
What is the best book you have ever read?
Oh, I'm always reading so this is a difficult one… professionally, I come back to Eat that Frog by Tracy Brian time and time again. It's great to remind myself to make the best use of my time, and it's probably the book I recommend the most. I enjoy a lot of genres personally. Such as crime stories like PJ Tracy's Twin Cities Thrillers and romance novels like Cecelia Ahern's, she is my go-to for a beach read. I'm also a big fan of a fantasy novel like the The Hellequin Chronicles by Steve McHugh. I realise you only asked for one, but I couldn't resist!
What would people never guess you do in your role?
This is a hard one, as I try to be very transparent with my goals and things I'm working on. I guess it would surprise some that I still like to roll up my sleeves and get around a whiteboard with the developers to figure out a solution to a problem together. It's not something I get to do very often, as I'm not usually involved in that level of detail, but it is still something I enjoy when I get the chance. It helps me understand what we are doing and how we are doing it.
Flashback to when you were 10 years old. What did you want to be when you grew up?
I could never decide, it would change every week. I remember a period of wanting to be an archaeologist when we were studying Ancient Egypt at school. I thought they were super cool, and that might have lasted a little longer than most things I wanted to be at that age!
What are the values that drive you?
Joy – We only live once, so having fun in every aspect of life is super important to me.
Growth – I'm a continual learner and treat every day as a school day.
Autonomy – Being honest and having and giving the freedom to do what's needed and when.
Where would you love to visit but haven't had a chance to yet?
I love travelling and exploring new places, I'm also a big foodie so really enjoy trying local cuisine. I think the place I'd pick is Singapore. Me and my husband wanted to go before the Pandemic but haven't had the chance yet.
What do you think are the biggest exciting changes that will affect your role in the foreseeable future?
As a business we have plans to double our team in the next 12 months, so it's fair to say that we're at a very exciting stage in our growth story. The opportunities in our industry are huge, growing the delivery team to achieve these is a significant but exciting challenge. I'm loving working with Val and the team, continuing to grow our capabilities and shape our ways of working to maximise our success.
Do you have any pets? If so, what are they?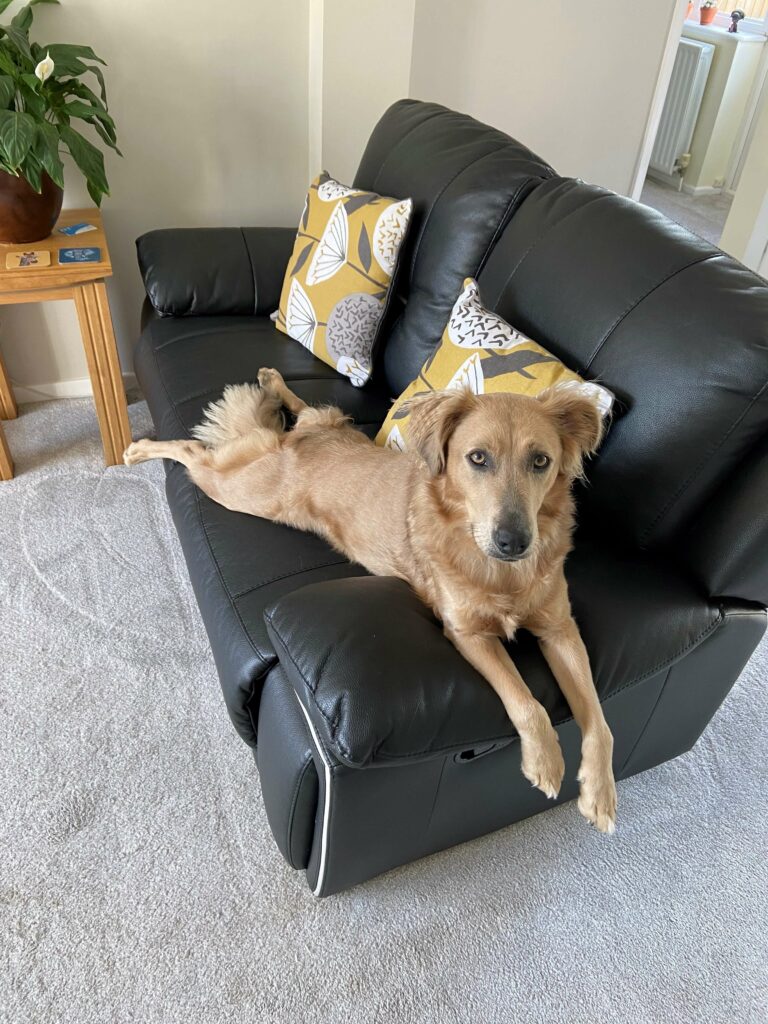 I have a dog called Diamond, she's a Heinz 57 variety. We were asked to collect her at 11 weeks old when we were fostering from Dogs Trust during the pandemic. So, on the Thursday I got a call asking if we'd take a puppy home, not knowing anything other than her age. As puppies can't be socialised properly in the shelter, they were one of the only categories of dogs allowed to leave during this time. The next day she was home with us, with all the joys and challenges a puppy brings. Of course, we adopted her as soon as we were allowed, because there was no way we could give her back!
What is your favourite meal?
Sunday Roast! Gravy, Yorkshire pudding, roasted veg and potatoes and my favourite meat would be a pork crackling joint. I enjoy cooking when I have the time. Having a slow Sunday afternoon chilling and smelling the roast cooking in the background reminds me of Sundays with my parents growing up. The rest of the week tends to be quicker meals, so I really enjoy taking the time to cook and eat at the table with my husband.
Before working at Bespoke, what was the most unusual or interesting job you've ever had?
In addition to my role at Bespoke, I'm also a Trustee for Inspiring Healthy Lifestyles. It's a role I do voluntarily for the charity. I work alongside the Senior Leadership Team as part of the Board, directing and supporting the organisation. We work on behalf of local authorities delivering a wide range of leisure and cultural services from theatres to parks, and arts programmes to leisure centres. I take pride in supporting them when I hear about the initiatives the team are providing to the local community.
If you could be anyone from any time period who would it be and why?
Oh, maybe someone like David Attenborough. He's seen so much of the world and so many animals in their natural habitats. He will have seen some fantastic things and is such a champion for animals and the environment. Our environment, and animal conservation in particular, is something I care deeply about. I'm a long-time supporter of WWF and the work that they do, and David Attenborough is such a fantastic ambassador for them and this cause.
To read more Bespoke Team interviews, click here.