Diverse experience across a variety of industries is an asset and one that delivers a fresh perspective.
Within the Technology industry, there is an initiative to balance the scales when it comes to gender inequality within Tech. As such Ingram Micro hosts a podcast, 'Coffee With Women in Tech' to promote and champion women already in the industry and encourage others to have the confidence to join.
In this particular episode, Harpreet chats to our Marketing Director Kelly on why women should be taking a leap of faith into the Tech industry without industry experience and how to make the most of the opportunity once they are there.
Tell me more about Bespoke XYZ, what they do and a bit more about your role within the business?
Bespoke is in its 9th year and initially started out life as an Excel Consultancy, working with large companies across lots of different sectors and helping with all of their Excel requirements. Through working on these projects it became apparent that these clients needed a much deeper understanding of their business intelligence, which led the business to go on to become a Microsoft Designated Partner and specialise in Power Platform. 
I've now been with bespoke for just over 2 years and I look after all the marketing and lead generation, customer comms and, more recently, working and developing our partner channel, building out strategic relationships.
What about your career before Bespoke?
I finished college, having done business and marketing, and I was really keen to get into the world of work. I started working in a sales and marketing role for a family run business supplying bar equipment to pub and restaurant chains. It was a really good experience, I had a great manager who really pushed me to progress and was incredibly mindful that I was of a really young age. I got to deal with people in businesses such as Greene King and Bass Brewers which were predominantly male-dominated industries.
I've always been quite ambitious, and needed transparency as to what it is I'm working towards. It was this which attracted me to the Banking industry as there was a clear career path. However, I missed marketing, so when an opportunity came up within a regeneration Partnership, I jumped at the opportunity.
It was a really different take on my working life, and I liked the fact it was in another industry so I was drawing on lots of different experiences, all the time. Following my time there I ended up working for a company called JLA, which was a private equity-backed business that supplied commercial laundry, catering, heating and fire safety equipment to businesses across the UK.
In the last two years, what sort of opportunities would you say have been available to you in this industry?
From a marketing perspective, it's been great for me to work in a different industry and also for a smaller business. It's given me a renewed appreciation of marketing because I really had to drill down into what marketing channels were going to work for Bespoke as a business. I think a big part of that is the partnership channel.
Looking back, I remember at one point just thinking to myself the tech industry is huge. It's so vast, it's ever-changing, and I wondered how I was possibly going to keep on top of everything that was happening and changing all the time but with that particular challenge comes so much opportunity off the back of it. There are networking events all the time. There are so many businesses and people out there that are really willing to help.
It's opened my eyes to how refreshing it is to see so many different people cheerleading other businesses and everybody seems to want everybody else to succeed. So in terms of opportunities in the industry, I would say there are many – but plan where you want to go, where you see yourself, what you want to be working on, and what you want to get out of it.
I always hear that the perception of the Tech industry from the outside is very different, and it's only when people land here that they realise that the opportunities are huge and it's so fast-paced and exciting. Before starting in Tech would you have thought you'd have these opportunities?
From the outside, looking into the tech industry I would never have dreamed that I would be able to be part of it. I think my misconception was that, unless you had experience within the industry, then you wouldn't be able to move into the industry. I realised how wrong that was, and I think anybody out there who wants to try the industry – should.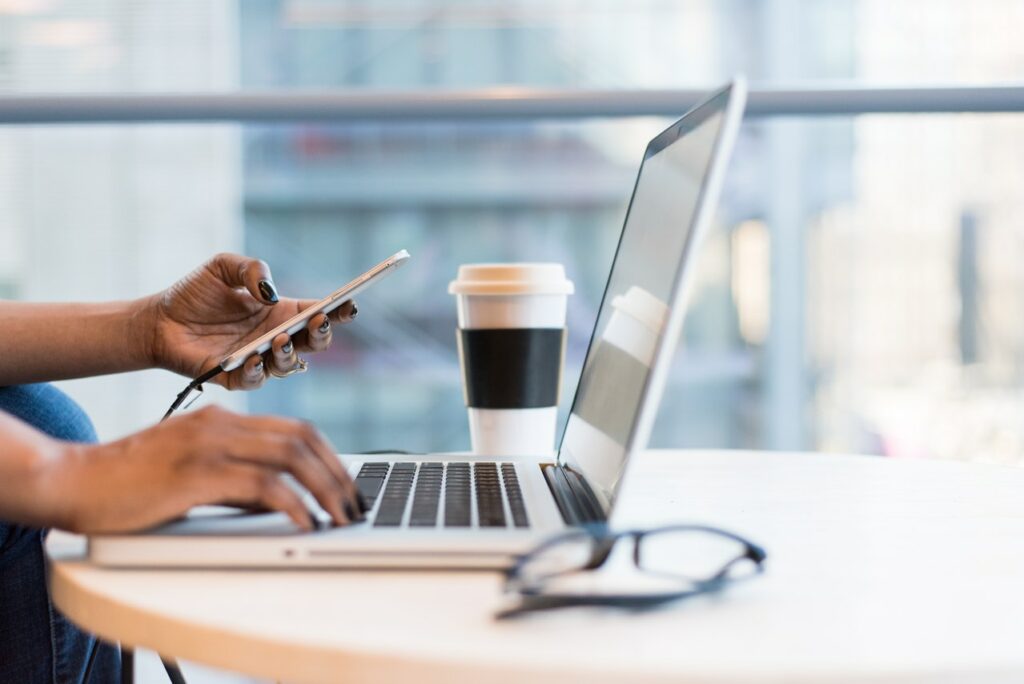 Do you think it is important to always keep an open mind and just give it a go?
Yeah certainly with marketing, it is a transferable skill because the fundamentals of marketing are the same, whatever the industry you're in. But what was really crucial for me was really spending the time initially getting to grips with the industry and the technology. The way I dealt with that was by chatting to people and not being afraid to ask questions. Also, don't be afraid to say, "I don't know the answer to that but I'll find out for you." Go away and do some research, because there are so many rich resources out there to help you understand more about what we use within the tech industry.
How did you transfer some best practices between the industries you have worked?
Being mindful of my learning curve when starting in tech and using this insight to guide others – pointing out the shortcuts that I've found or what helped me when I first joined the industry. Being able to pass that experience on to others and I think that is a really important point to note, to get more people in the industry and more women in the industry is promoting more about the work that we do through a marketing perspective. I'm trying to do more interviews with our employees, such as a day in the life of, how they find the role, what's good about the role and the business so people have a clearer view of what to expect if they were to think about working in the industry.
That's a very positive outlook to have, where women are helping other women get into the industry. That's what we need, women supporting other women.
Technology isn't ever going to stand still, it's ever-changing, as it should be. As soon as a fantastic solution has been developed, we're moving on to the next challenge. It is always evolving, so there's so much opportunity and not just for those already within the industry. We constantly need fresh pairs of eyes to be able to draw on experiences in different sectors.
Women shouldn't think because they don't have the industry experience already that they can't be a part of Tech. On the contrary, coming from a different industry could actually be quite a plus to get a fresh perspective and new ideas into the Tech industry.
Having an inquisitive nature is important. Even now I'll often chat with friends and colleagues of mine from other industries, just to get their perspective on something that I might be working on because I appreciate their feedback and thoughts.
I have quite a few regular catch up sessions as well with our non-executive director. He's worked in the business for many years across lots of different industries and it's quite nice to bounce ideas off him and get his view and take on things.
So I think a mentoring relationship is important as well. Don't be afraid to go out there and find somebody that you might want to learn from or might aspire to be. Go for it, ask if they would mind being a mentor, and have a good chat about career progression and development.
What else have been ways of supporting you and your career in technology?
I've had a really positive experience in my time in the industry. I consider myself incredibly fortunate that I work for a progressive business that believes in flexibility. That's helped me enormously and was part of the appeal as having that work-life balance was really important for me.
I've got two boys, 13 and 8 who are at an age where they still want me around and I still want to be around. I don't want to be spending hours travelling on the motorway. What I can do within tech, I can do remotely. I know that not every business is the same, but I think as an industry, huge advancements have been made when it comes to flexibility and work-life balance.
Do you have any other tips that you would like to give to women who are looking to explore a career in technology?
Do some research first, think about what areas specifically you want to work in, what you're experienced in. As I mentioned before, it's really vast and varied in the industry. So, if you can, reach out before you make the jump, and talk to people about their roles. Don't be afraid to ask questions and from my experience, everybody I've come across is happy to help. A big one is the networking group, whether it's within the sector, or actually out of the sector but it might be within your discipline. I have quite a big marketing network, which I can use for specific perspectives relating to marketing.