Pain points can be overwhelming, and it's hard to prioritise them. Do you know what you want to accomplish, but lack a strategy to get there? You've come across solutions, but aren't sure which one to choose and how to get the most out of it? Adopting Power BI with our BeScope Solution is the smarter way to get started.
What exactly is Bescope?
For those who want to take their data analytics to the next level, Power BI is likely to be on your list of options. However, have you considered the most effective strategy for implementing it throughout your organisation?
Using BeScope, you can assess whether Power BI is right for your company. By conducting a pre-adoption scoping exercise that provides you with everything you need to make an informed decision.
The process extends over the course of 3 to 4 weeks. We will work with you to uncover exactly what your present pain points are and what you want to accomplish. The first step is to assess your current setup and data architecture. In other words, we will recommend the best course of action for implementing Power BI.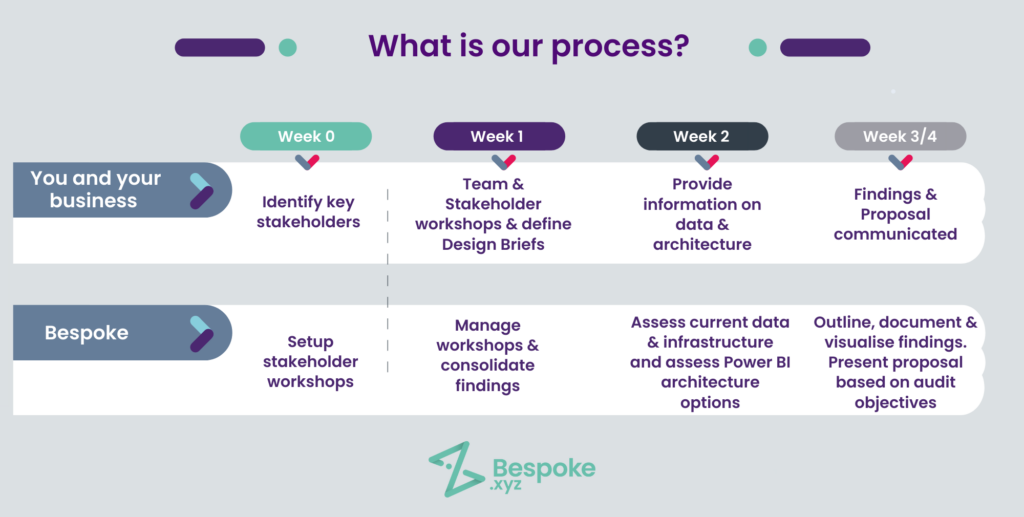 Why the need to scope at all?
To put it differently, when it comes to getting started with Power BI, BeScoping is an essential tool. It provides an easy-to-understand path for businesses to get started. Additionally, it's also a cost-effective way to see if your company is ready to adopt Power BI. Our experience tells us that businesses are far more likely to use Power BI effectively in the long term, when they've taken the time to fully understand what they want to get out of it first. That's where BeScope comes in:
Provides a clear entry-level route to Power BI even for those without a computer programming background.
Tried & tested by businesses of different sizes across varying industries, from simple to advanced scenarios.
You're provided with clear & transparent pricing for each stage of adoption.
Furthermore, this ensures that all your internal stakeholders are on board and ready for company-wide enhanced analytics.
Why choose Power BI?
With Power BI, the possibilities are endless:
Personalised dashboards
Fast & secure
Instant access
Seamless integration
Powered by Microsoft, Power BI is an advanced business analytics solution. Its superpower is turning your unrelated sources of data into coherent, visually immersive, and interactive insights to share with ease.
Working with our team of Power BI consultants can lead to significant returns. Not only in terms of revenue but also your business user's ability to make advantageous decisions in just a matter of minutes.
Power BI is designed to be a tool for everyone, thanks to its ability to connect to hundreds of different data sources. In other words, making use of the most advanced analytical features while remaining incredibly simple to use at the same time.
Bescope solution in action
After conducting a scoping workshop with Ashfield Engage, we were able to evaluate their current environment and the competency of their analytics team.
Ashfield received our recommendations in the form of a project roadmap, which included details on the company's short, medium, and long-term priorities, along with an analytics system architecture design.
What do you receive?
A blueprint which clearly defines the required architecture, licenses, data infrastructure and outputs.
High-level roadmap for delivery which outlines the best approach for a smooth adoption process and clearly outlines the priorities.
Prepare for the future and stay ahead of the competition.
Our team of Power Bi experts can work with you on your data strategy allowing you to make sure it is the right solution for your business.
How much it will cost?
The price is £3,000 plus VAT
Who do we work with?
Years of experience working with clients in a variety of industries has given us a unique perspective on complex data problems. Don't just take our word for it – read what some of our clients have to say here.
Solutions From Microsoft Certified Partners
Microsoft has featured full details of our BeScope solution on their AppSource page. This area is dedicated to showcasing solutions from Microsoft certified partners. You can check it out here.