How can we help?

Give us a call
Our team of experts are on hand and ready to help.
0161 883 2655
Live chat
Ready to chat data? That's what we're here for
Submit an enquiry
Fill out your details and one of the team will be in touch
Get in touch
Switching to Power BI – it's not painful!
You're probably more than familiar by now with Power BI – Microsoft's cloud-based data visualisation and analytics tool. Whether you're still on the hunt for a custom data management system or have decided that Power BI is for you, you may still be a little put off at the thought of actually switching.
After all, doesn't any kind of platform migration typically lead to lengthy delays, overtime hours and unforeseen costs? Well, you just might be wrong about that…
Here, we're going to take you through the process of switching to Power BI and hopefully put any doubts or concerns you have to rest. In fact, we aim to have you planning the switch by the end of this article!
Why Power BI?
First, let's take a quick look at why Power BI has generated so much popularity over the years and is now the leading tool of choice for many of the world's most iconic brands.
Power BI is an all-in-one solution that can be used to collect, clean and manage data from a wide range of systems and transform it into meaningful insights. As a cloud-based business intelligence service, it can be accessed from almost anywhere, saving time and increasing collaboration for employees and teams. It also saves businesses significant costs in data storage and management, as well as being incredibly secure.
Ultimately, Power BI gives organisations something that's increasingly important for their success – complete control over their data. Through its many features and capabilities, it gives users an unrivalled 360 degree view of their entire business, opening up the door to market opportunities and saving them both time and money.
Making the switch to Power BI
There are a number of reasons why switching to Power BI is not like your usual DMS migration. Here are some of the main ones you can look forward to:
1. Seamless integration with existing services
Power BI makes it easy to automatically connect your data from various sources immediately after set-up, enabling you to view it all in one place. This means time isn't wasted migrating data from existing platforms or drawing conclusions from more than one data source.
Power BI's native integrations include SQL Server, Azure, Google Analytics, Office 365, Microsoft Dynamics, Adobe Analytics, Salesforce, Jira, Mailchimp and many other apps and services your organisation might use. New integrations are always in development too, meaning there's no limit to the reach Power BI can provide.
2. Quickly connect all of your data in just a few clicks
Because connecting your data is integral to begin analysing and interpreting, Power BI has made the process as quick and simple as possible. Users can connect their data sources in less than a minute with just a few clicks, to begin making use of the tool's value straight away.
After selecting the appropriate data sources and entering the relevant credentials, Power BI will automatically populate a dashboard with your real-time data, allowing you to immediately start leveraging its insights. For example, after connecting your CRM system and website analytics software to Power BI, you could create a graph directly comparing website visitors with your sales. Dive further and you could even correlate the average time a visitor spends on your website before making a purchase.
3. Built with data governance in mind
Power BI is built with data governance in mind, so enables you to set user hierarchy and company access permissions from the start.
For instance, users can easily apply specific rules regarding data sources, organisational roles, and individual reports to ensure various kinds of data can be seen only by those who need to see it. To make this process even faster, different levels of administrators can be assigned within Power BI who will also have the power to assign access permissions to everyone else in the organisation. These administrators will be controlled by a Global Admin who can assign different administrators for separate data sources or certain types of data, or whatever else makes sense for your organisation.
All of this makes creating a strong and clear data governance strategy easy from the very beginning.
4. No pressure to move everything to the cloud
Power BI is first and foremost a cloud-based platform, but that doesn't mean customers only have the option of hosting on the cloud. Many businesses are not quite prepared for cloud-based data storage and may want to take less of a leap, in which case Power BI can very much still work for you.
Power BI provides the choice of moving all of your data to the cloud, or perhaps moving just some data while keeping the most important or sensitive stuff on the premises. The Power BI Report server can be used to take reports and dashboards created in Power BI Desktop and deliver them to other browsers and applications, as well as the Power BI mobile app. This allows organisations complete freedom to choose which data they keep on premises and which they decide to put onto the cloud.
There is also the possibility to create hybrid dashboards that use data from both your dedicated server and from behind your own firewall, simply by pinning reports from the Power BI Report Server to the Power BI cloud service.
All of these options enable businesses to transition to the cloud at their own pace and in their own way, while still enjoying the benefits Power BI has to offer.
5. Minimal time training staff
It's normal to account for staff training and onboarding time when transitioning to a new data platform. However, Power BI is built to be an intelligent and easy-to-use business tool, with its intuitive drag-and-drop interface and simple set-up process. This is why everyone – from seasoned analytics professionals to absolute beginners – will be able to start turning their data into beautiful, informative visuals and valuable insights within just five minutes.
Power BI's drag-and-drop interface makes it easy to create data-rich dashboards and engaging charts and graphs. Excel and PowerPoint users can jump right in thanks to its many built-in parallels to and compatibility with these tools, such as the ability to import data from an Excel workbook, drag charts to your dashboard or share the workbook with other Power BI users.
Beyond this, Power BI offers an extensive amount of educational information
you can take advantage of, including official guided tutorials and documentation, webinars, training videos, and other resources, all for free. No matter where your employees are starting from, Power BI provides all the support needed to become a data-led workplace.
6. High security & peace of mind
Data security may be a concern when moving to a new data management tool – particularly the additional time or costs involved in ensuring data is kept safe throughout the transition process.
Though no cloud-based system is impervious to attacks, it's worth knowing that Power BI utilises cloud computing service Azure, one of the most stable and secure platforms available. Azure helps to prevent the unauthorized and unintentional transfer of information in several ways, including making use of both a Web Front-End to handle the initial connection and authentication to Power BI, and a Web Back-End cluster, which takes care of all subsequent user interactions.
The Azure infrastructure also uses a multipronged threat-management approach to continuously strengthen its defense and reduce risks. Power BI also comes with the full support and backing of Microsoft, an industry leader in both on-premises and cloud security. This means you can rest assured knowing your data will remain safe.
Ultimately, no other service can compete with Power BI when it comes to usability, features and value. Hopefully we'll have convinced you that there's nothing to lose by switching, but if you're still on the fence, make sure to book a consultation with our expert team to see how you can gain control of your data.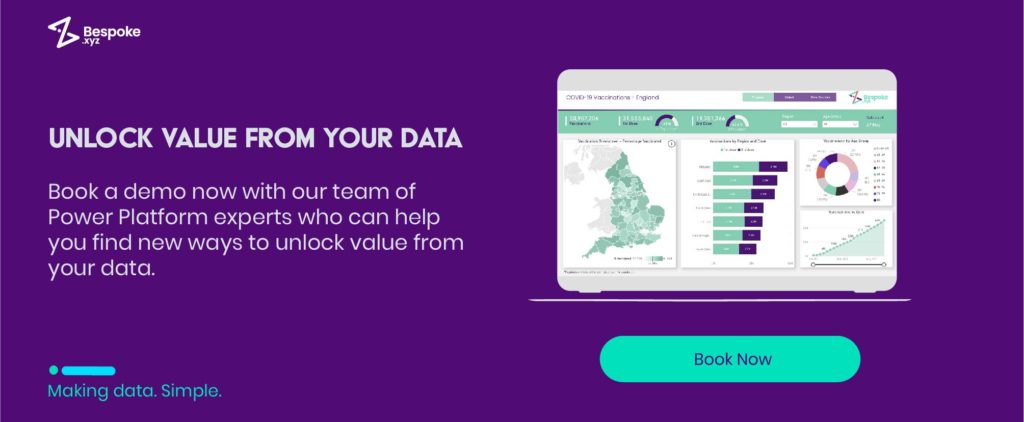 5 Things We Can Do With Your Data
You've probably heard the saying, "It's not what you have, it's how you use it." Never is this potentially more true than when we're dealing with data.
Data is a collection of facts and information turned into a form that's easier for us to process. It can be numbers, words, measurements or even just observations. Consumer data often holds many insights about your customers – from what they like to buy to how or even when – and can help us build more positive customer relationships.
Gathering consumer data, however, is only one part of the equation – what matters most is how you use it. In today's tech-led world we are being overwhelmed with data, and if you don't know what to do with it, your competition will.
Here at Bespoke, we help businesses efficiently process their data to unlock powerful advantages. We do this in five ways:
Data Transformation
Data transformation involves changing the format, structure, or values of raw data in order to make it easier to process (see below). It may be constructive (like adding or replicating data), destructive (deleting records and folders), aesthetic (standardising values and labels), or structural (such as moving and combining columns in a database).
We transform data to make it more organised and easier for both humans and computers to use. It helps to improve data quality later down the line (see Data Validation) and protects against potential problems like null values, unexpected duplicates or incompatible formats.
Data transformation might also include data integration – the combination of technical and business processes to combine data from various sources into meaningful and valuable information.
All of these transformative processes are crucial to effective data management, which is the practice of collecting, keeping and using data securely and cost-effectively.
Data Automation
More data of course means more processing, which can significantly add to your company's workload. That's where data automation comes in.
Data automation allows mundane data handling tasks to be run effortlessly in the background, without demanding precious employee time. It can be achieved using business applications such as Excel and Power BI, or even a bespoke solution created specifically for you.
Different types of data automation might include data capture automation (making it easier to collect, store and organise large amounts of data at once); automating business processes or workflows, and automated data uploads (leading to increased accuracy and saved time).
Data Visualisation
Data visualisation is the presentation of data in a graph, chart, diagram or other visual format. It is incredibly important for business dashboards as a way to communicate relationships between the data and allow trends and patterns to be easily seen. Machine learning makes it easier to conduct business analytics such as predictive analysis, which can then serve as helpful insights for future goals.
Data virtualisation, meanwhile, allows an application to retrieve and manipulate data without requiring technical details such as the data's format or physical location. Similar to data visualisation, the goal of data virtualisation is to create a single representation of data from multiple, disparate sources, without having to copy or move the data.
Data Processing
Data processing is when data is collected and translated into usable information. It is important for this to be done correctly so as to avoid negatively affecting the end data or product.
Starting with the data in its rawest form, data processing converts it into a more readable format (such as a graphs or documents, etc.), enabling company employees and stakeholders to utilise the data for their own data analytics projects.
This type of information processing is typically done using machine learning algorithms, though the process may vary depending on the source of data being processed and its intended use.
Data Validation
Data validation involves checking the accuracy and quality of source data before using, importing or otherwise processing data. When moving and merging data from different sources and repositories, it's important to make sure it conforms to business rules and doesn't become corrupted due to inconsistencies. The goal is to create data that is consistent, accurate and complete, to prevent data loss and errors during a move.
Different types of validation depend on destination constraints or objectives. Data validation is also a form of data cleansing.
At Bespoke, we have a team ready to help you prepare to work with your data and understand the opportunities available and even do a data healthcheck. Just shoot us an email to set up your free consultation.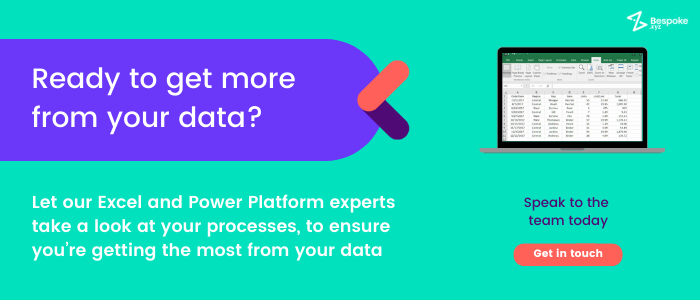 Digital transformation: why does it matter in business?
In a world of 'big data' and information, more and more businesses are striving towards digital transformation as a way to keep up with the ever-changing technological landscape.
So what exactly is digital transformation and why should you be making it a focus for 2021? Here, we've outlined everything you need to know about this increasing business trend.
What is digital transformation?
Digital transformation has taken on many meanings in today's digital era of big data and data management. The truth is, it's a term that can mean multiple things to different businesses, depending on a company's main priorities and overarching end goal.
Broadly speaking, digital transformation is the practice of integrating digital technology into all areas of a business, significantly changing how it operates and provides value to customers. In doing this, digital transformation also requires businesses to rethink old models, become more agile in responding to new problems, get comfortable with failure and continually challenge the status quo.
According to Jay Ferro, CIO of Quikrete, digital transformation should begin with "a problem statement, clear opportunity, or an aspirational goal" – basically, your company's 'why'. This could revolve around improving customer experience or increasing productivity, or something more aspirational, like becoming the absolute best in your industry using new digital technologies you didn't have years ago.
Why does it matter for business growth?
There are several reasons a business may decide to take on a project of digital transformation. But for many, the most basic and common reason is survival – they simply have to.
An organisation's ability to adapt quickly to potential manufacturing disruptions, market pressures and changing customer demands is critical to its long-term success. This has become even more apparent in the wake of the covid-19 pandemic, when consumer habits shifted dramatically and businesses were faced with totally new and unprecedented challenges.
Recent studies show that increasingly the digital transformation process is being viewed as a long-term investment, with relevant initiatives set to take over a 50% share of worldwide technology investment by 2023. Technology is no longer just a choice – it's a fundamental business strategy that must be part of wider operative-initiatives.
Five common ways that digital transformation can help your business are:
Provide an on-demand service – Today's customers, whether internal or external, are able to enjoy the same kind of experience in a professional environment that they have with technology in their personal lives, thanks to businesses delivering more agile hybrid IT services and agile networking capability, and perfecting the user experience.
Help employees be more effective – Digital technology plays a pivotal role in helping employees become more effective in their primary roles. Core business functions such as finance and HR can move away from manual processes and automate key areas like payroll, while remote working and access to services on demand all helps to create an environment that allows employees to achieve.
Increase security – Progressive businesses are able to implement a security strategy consistently across all networks, applications and data, whatever services are being used.
Strengthen business partnerships – Through building a digital process at an early stage and integrating the wider organisation with technology, businesses are able to stay ahead of the competition and make themselves more viable to future partners. Internal processes can become more efficient, generating time and resource gains and helping to strengthen business partnerships.
Make more informed decisions – When data and analytics are at the heart of any digital transformation strategy, businesses will be able to take huge advantage of big data. With the right set of analytical tools, this data can be converted into valuable insights that can be used to make more informed, quicker decisions.
Big data & analytics: the key to digital transformation
As just mentioned, data and analytics can play a key role in an organisation's digital transformation efforts. Stats show that fewer than 50% of documented corporate strategies mention data and analytics as essential components for delivering enterprise value, according to Gartner, but this is changing. By 2022, it is predicted that 90% of corporate strategies will mention big data and analytics as a critical enterprise asset.
The answer, therefore, is clear: data and analytics competency should be paramount within your business for digital transformation success. This means defining a strong data strategy and implementing the relevant data transformation methods in order to make the absolute most of the information available.
Leading organisations in various industries are wielding data and analytics as competitive weapons, using them to accelerate growth and inspire innovation. But many companies still struggle under the weight of their traditional business models and processes that may not allow for the potential that data and analytics can bring. Others may also not be able to make the cultural shift needed to work with big data, or commit to the information management and analytics skills needed to truly make the most of its power.
Here at Bespoke, we provide various solutions to help you transform your data strategy. From direct consultancy to our range of out-of-the-box automation and analysis tools, we can guide you every step of the way towards making the most of big data. Simply get in touch to arrange a free initial consultation with one of our experts.
What's next after digital transformation?
It wouldn't be entirely surprising for companies to ask: is there an end to digital transformation? How can we know when we have reached it? When will we be able to say we have truly achieved digital transformation?
A more relevant question might be, what comes after digital transformation? Is there a next phase, and what will we call it?
Gartner has named the period beyond digital transformation as the 'ContinuousNext', which will reflect the capabilities all companies need to keep up with the continuous change driven by technology.
ContinuousNext is a formula for success in a world that is constantly changing…"through and beyond digital transformation". Meanwhile, Accenture is naming this period as the "post-digital era".
Overall however, industry experts agree that digital transformation is a continuous process, as technology will always continue to advance rapidly, coupled with ever-changing consumer behaviours. Rather than view digital transformation as an end goal, organisations will have to consider it a constant process that will enable them to adapt, evolve, and drive forward change within their field. Ideally, it is the state of flow that all businesses should be striving for.
Get in touch to find out how Digital Transformation can revolutionise your business.