According to Jay Ferro, CIO of Quikrete, digital transformation should begin with "a problem statement, clear opportunity, or an aspirational goal" – basically, your company's 'why'. This could revolve around improving customer experience or increasing productivity, or something more aspirational, like becoming the absolute best in your industry using new digital technologies you didn't have years ago.
Why does it matter for business growth?
There are several reasons a business may decide to take on a project of digital transformation. But for many, the most basic and common reason is survival – they simply have to.
An organisation's ability to adapt quickly to potential manufacturing disruptions, market pressures and changing customer demands is critical to its long-term success. This has become even more apparent in the wake of the covid-19 pandemic, when consumer habits shifted dramatically and businesses were faced with totally new and unprecedented challenges.
Recent studies show that increasingly the digital transformation process is being viewed as a long-term investment, with relevant initiatives set to take over a 50% share of worldwide technology investment by 2023. Technology is no longer just a choice – it's a fundamental business strategy that must be part of wider operative-initiatives.
Five common ways that digital transformation can help your business are:
Provide an on-demand service – Today's customers, whether internal or external, are able to enjoy the same kind of experience in a professional environment that they have with technology in their personal lives, thanks to businesses delivering more agile hybrid IT services and agile networking capability, and perfecting the user experience.
Help employees be more effective – Digital technology plays a pivotal role in helping employees become more effective in their primary roles. Core business functions such as finance and HR can move away from manual processes and automate key areas like payroll, while remote working and access to services on demand all helps to create an environment that allows employees to achieve.
Increase security – Progressive businesses are able to implement a security strategy consistently across all networks, applications and data, whatever services are being used.
Strengthen business partnerships – Through building a digital process at an early stage and integrating the wider organisation with technology, businesses are able to stay ahead of the competition and make themselves more viable to future partners. Internal processes can become more efficient, generating time and resource gains and helping to strengthen business partnerships.
Make more informed decisions – When data and analytics are at the heart of any digital transformation strategy, businesses will be able to take huge advantage of big data. With the right set of analytical tools, this data can be converted into valuable insights that can be used to make more informed, quicker decisions.
Big data & analytics: the key to digital transformation
As just mentioned, data and analytics can play a key role in an organisation's digital transformation efforts. Stats show that fewer than 50% of documented corporate strategies mention data and analytics as essential components for delivering enterprise value, according to Gartner, but this is changing. By 2022, it is predicted that 90% of corporate strategies will mention big data and analytics as a critical enterprise asset.
The answer, therefore, is clear: data and analytics competency should be paramount within your business for digital transformation success. This means defining a strong data strategy and implementing the relevant data transformation methods in order to make the absolute most of the information available.
Leading organisations in various industries are wielding data and analytics as competitive weapons, using them to accelerate growth and inspire innovation. But many companies still struggle under the weight of their traditional business models and processes that may not allow for the potential that data and analytics can bring. Others may also not be able to make the cultural shift needed to work with big data, or commit to the information management and analytics skills needed to truly make the most of its power.
Here at Bespoke, we provide various solutions to help you transform your data strategy. From direct consultancy to our range of out-of-the-box automation and analysis tools, we can guide you every step of the way towards making the most of big data. Simply get in touch to arrange a free initial consultation with one of our experts.
What's next after digital transformation?
It wouldn't be entirely surprising for companies to ask: is there an end to digital transformation? How can we know when we have reached it? When will we be able to say we have truly achieved digital transformation?
A more relevant question might be, what comes after digital transformation? Is there a next phase, and what will we call it?
Gartner has named the period beyond digital transformation as the 'ContinuousNext', which will reflect the capabilities all companies need to keep up with the continuous change driven by technology.
ContinuousNext is a formula for success in a world that is constantly changing…"through and beyond digital transformation". Meanwhile, Accenture is naming this period as the "post-digital era".
Overall however, industry experts agree that digital transformation is a continuous process, as technology will always continue to advance rapidly, coupled with ever-changing consumer behaviours. Rather than view digital transformation as an end goal, organisations will have to consider it a constant process that will enable them to adapt, evolve, and drive forward change within their field. Ideally, it is the state of flow that all businesses should be striving for.
Get in touch to find out how Digital Transformation can revolutionise your business.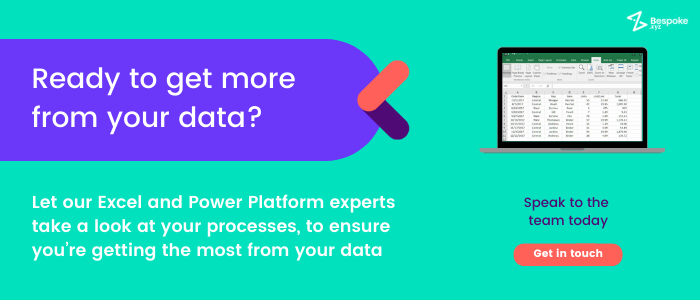 Bespoke appoints Brian Rees as Non-Exec Director
Data transformation consultancy Bespoke have appointed Brian Rees as their first Non-Executive Director.
Established in 2013 and headquartered in Manchester, Bespoke has evolved to become a data solutions provider to leading companies from the Pharmaceutical, Aerospace and Property sectors, including the likes of; Airbus, Savills and BD Healthcare. Bespoke's unique approach to how they work alongside their clients, has seen their range of data solutions grow significantly.
Brian, who is Chair of Manchester's IF Agency, already holds similar roles at Property Consultancy LivingCity and the Salford Red Devils. "Having mentored Sam over the last few years, I've learnt a great deal about Bespoke's potential and ability to make their clients more productive and profitable" commented Rees.
"For some time now, Brian has helped us both personally and commercially on an informal basis, so it was only natural that he should become our first NED, particularly in these challenging times" added Bespoke Managing Director, Sam Bright.
Brian will be working with Sam, Jordan and recently hired Marketing Director, Kelly Humpleby.
Pictured below from left to right: Jordan Brookes – Commercial Director, Brian Rees and Sam Bright, Managing Director.