In today's fast-paced world, we're all trying to do more with less. And with tools like Power Automate, life is a heck of a lot easier! It offers a simple way to automate workflows and simplify day-to-day operations. Sounds good, right? But keeping up with all of those workflows is a different story. And if done wrong, it can lead to lost time and mistakes.
That's where Power Automate support comes in. By working with experts, you can optimise your workflows and really make the most of the Power Platform. You'll be able to avoid common pitfalls and ensure that your workflows are running efficiently, which can save you loads of time and money in the long run. 
The Benefits of Power Automate
We all know that time is money, and in today's business world, it's more important than ever to find ways to streamline processes and increase productivity. Power Automate does just that! It's an incredible tool that allows you to automate workflows and make your teams more productive. 
But, how exactly can it benefit your organisation?
Well, for starters, Power Automate lets you automate those tedious manual tasks, like data entry and email notifications. Meaning you and your team will have more time to focus on value-added tasks like developing new ideas and providing excellent customer service.
Plus, it helps ensure that all tasks are performed accurately and efficiently, which is super important in highly regulated industries.
Power Automate can also integrate different applications and services, making it easier for teams to work together and share information. By connecting various systems, organisations can streamline their workflows and ensure that everyone has access to the information they need.
Still not convinced? Check out our articles on "10 Ways You Should be Using Power Automate" and "Power Automate Use Cases Examples for Businesses" for some inspiration!
Overcoming Power Automate Implementation Challenges
Power Automate is an incredibly powerful tool. But without proper implementation, it can actually become more of a burden than a benefit! Leading to inefficiencies and potential errors.
Here are some common Power Automate challenges organisations face:
Too many flows to manage: It's easy to get carried away with Power Automate and create flows for EVERYTHING. However, keeping track of and managing them all isn't always easy. Make sure you have a clear strategy not just for creating flows but for managing them too.
Designing workflows correctly: To get the most out of Power Automate, workflows need to be carefully designed and tested. This can be difficult if you're new to workflow automation and don't know best practices. Providing Power Automate support goes beyond knowing the tool, it involves understanding business process automation as a whole.
Integration with other systems: Power Automate needs to integrate with other systems to be effective. This can be challenging if you're using a lot of different systems that need to be integrated.
Resistance to change: Some employees may be resistant to introducing business process automation if they're used to doing things a certain way. This can lead to low adoption rates and limit the benefits of Power Automate.
Security and compliance: It's important to ensure that Power Automate workflows comply with regulations and that sensitive data is handled appropriately.
Scalability: As your organisation grows, your workflows will need to be scaled up. This requires careful planning and implementation to ensure that your workflows remain efficient.
Maximising Your Workflow Efficiency with Power Automate Support
If you're using Power Automate but feeling like you're not tapping into its full potential, getting some expert support can make all the difference. Here's why:
Power Automate support can help you to really understand what this tool can do and how it can be tailored to meet your specific needs. With expert guidance, you can streamline your workflows and unlock the full benefits of business process automation in the workplace.
Power Automate support can help you to avoid common mistakes and ensure that your workflows are set up correctly. By testing and optimising your workflows, an expert in the platform can prevent errors and inefficiencies that could negatively affect your business.
Ongoing Power Automate support can help you to manage and improve your workflows over time. As your organisation evolves, your workflows may need to be tweaked to better fit your changing needs. With expert support, you can keep your workflows efficient and effective as you grow.
Partnering with a Power Automate Consultant can be a smart move for any organisation. With the right partner, you can take full advantage of this effective tool and systemise your operations for heightened efficiency and productivity.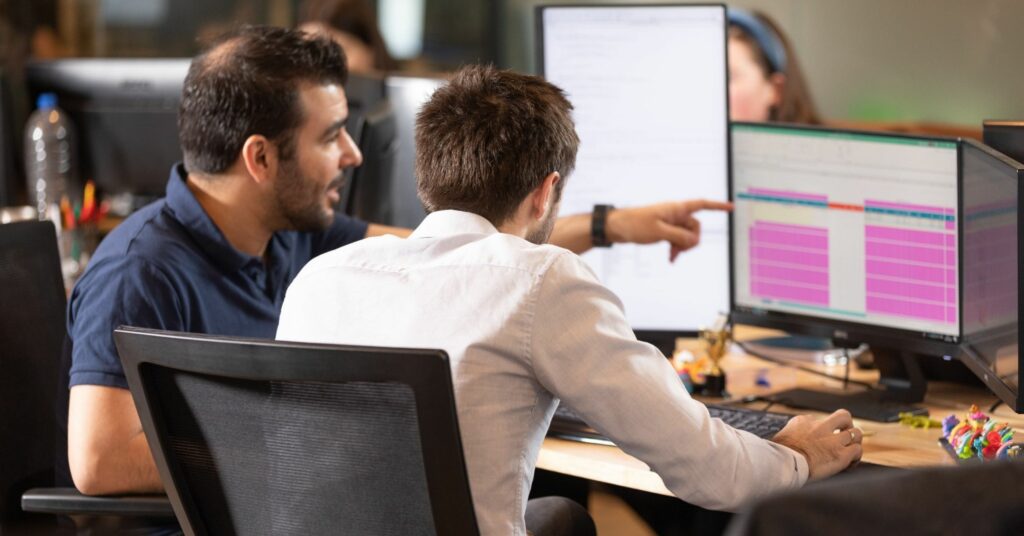 Tailored Power Automate Support for Your Organisation
At Bespoke XYZ, we're all about providing expert support to help organisations make the most of Power Automate. The right support can make all the difference, which is why we've developed a simple three-step formula to guide our clients.
Our approach is focused on helping you adopt Power Automate in a way that delivers real benefits to your organisation. By evaluating your business needs and challenges, we can tailor our support to ensure that you get the most out of the Power Platform.
During the first four weeks of our 8-week Pulse Power Platform adoption roadmap, we focus on adoption planning. We work with you to identify key individuals, assess technical readiness, and understand your unique business requirements. This helps us develop a customised plan that's tailored to your specific needs.
Next, we move on to enablement, where we provide complete immersion in the Power Platform. We'll help you every step of the way, from planning and designing to deploying your solution.
The final step is putting your plan into action. We provide ongoing support and guidance as you optimise your workflows and achieve your business goals.
By partnering with us for Power Automate support, you can be confident that you're getting expert guidance and assistance every step of the way.
To find out more, just drop us a line and one of our friendly advisors will be in touch.