What do you think of when you hear the word "automation"? Lifelike robots? Self-driving cars? Marty McFly's self-lacing shoes? Whilst all those things are pretty cool, automation is much more than that. It makes our everyday lives easier! We can control the appliances in our home from a smartphone. Order a takeaway with a few clicks of a button. So, it's no surprise that modern organisations are also looking for innovative ways to incorporate automation in the workplace and make their lives easier too!
What is automation in the workplace?
Workplace automation is the application of processes or systems using technology (software and/or hardware) to perform repeatable or predictable workflows without needing manual intervention.
Many people believe that workplace automation is stealing the jobs of regular workers. But, that's simply just not the case! If anything, it's here to support them.
By implementing automated workflows employees can wave "bye-bye" to the mundane tasks (which let's face it, nobody enjoys doing). Freeing up their time to focus on tasks that require creativity, leadership, and strategy – all things a computer can't replicate.
Why use automation in the workplace?
Perhaps your current processes work well for you. Maybe you're not ready to embrace automation and make the jump into the unknown. But, with stats like 45% of employee-performed activities can be automated it's difficult to ignore.
So, let's take a look at some of the…
Benefits of automation in the workplace
Workplace automation isn't a new concept, and it's not just about robots. It's about using technology to make work easier, more efficient and—in some cases—more accurate.
Organisations can benefit from automation in a variety of ways, from improving the quality of data to reducing costs. Other benefits include:
Faster growth and scalability
Clear accountability, easy compliance
Fewer mistakes
Improved consistency
Better working environment for employees
Increase in productivity
Higher employee retention rates
Easier to monitor a process and isolate problems
Reduced employee workload
Data-led insights
More opportunity for employees to optimise skills
To learn more about the benefits of automation, check out our blog "Workflow Automation: Why All Businesses Need it (Yesterday)".
Automation in the workplace using Power Automate
Until recently, mapping and automating business processes had to be done through programming. That's all changed now! With Microsoft Power Automate, it's a piece of cake!
Users can create workflows to automate repetitive tasks and business processes through a drag-and-drop interface. Even those with limited technical skills can get started quickly using out-of-the-box templates and customising them to suit their specific business requirements.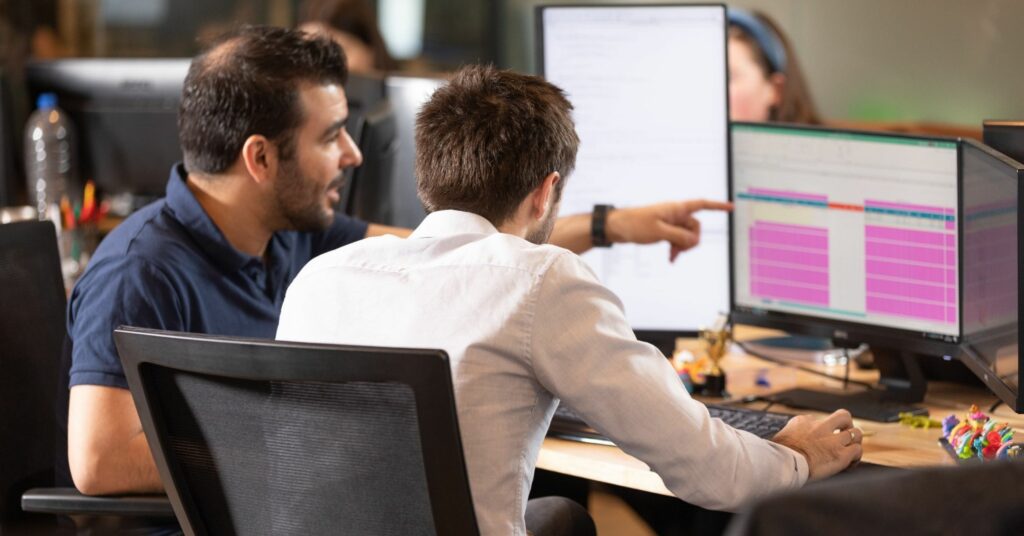 Automation in the workplace examples
Automation can be applied to just about any repetitive task. Here are just a few examples to get you started…
Supply chain reminders and notifications
Operational efficiency is key when it comes to supply chain. We work with a lot of clients who have a patchwork of legacy systems with gaps between applications. This leaves a disconnect in the supply chain which often leads to inefficiencies, lack of visibility, and general uncertainty.
By connecting Power Automate with a simple Power App, you can create and maintain orders in real-time. You can even set it up to receive email reminders on pending and delayed orders, ensuring you never miss a beat.
Employee onboarding procedure
The employee onboarding process is ripe for automation. Why? It's repetitive and tends to follow the same pattern. Imagine having a new starter turn up for work on their first day and not have to wait for equipment or trawl through unnecessary paperwork. That's the dream, right!?
With Power Automate, that dream can easily become a reality. You can create a seamless automated workflow that ensures new recruits have everything they need on their first day. Employee security access approved, and all their equipment ready and waiting.
You can also take it a step further by building flows that will automatically send policies, standard operating procedures, contracts, and more for new starters to complete. Power Automate recognises access security levels and only sends information relevant to that individual.
Track employee training progress
Even with a small team, keeping track of employee training progress is never a simple task. Figuring out who needs what training and when. Finding out who's completed which courses/modules. Checking compliance statuses. It's easy to see how these things lapse.
When using Power Automate, it takes a matter of seconds. Results are automatically updated and saved to a central database, allowing you to easily check employees' progress. You can also send automated email notifications to remind them they have a task due for completion – no more having to chase.
Collecting employee feedback
There are lots of reasons why you might need to gather employee feedback. Engagement surveys, appraisal reviews, and risk assessments – to name a few. And, constantly having to log into databases, checking for responses, or actioning the feedback is an unnecessary drain on your time!
Power Automate allows you to send notifications in Microsoft Teams each time a specific Forms response is submitted. Automated reminders can be sent to those who are slow to respond. Feedback is automatically collated and stored in a central location (i.e. SharePoint) giving you quick and easy access to the results. You can also filter the results and trigger specific actions based on the responses.
How to get started with automation in the workplace
Automation in the workplace not only aids in the long-term growth and scalability of your organisation. It also boosts the morale of employees who are able to utilise the time saved and apply it to more value-added activities.
Whilst the thought of automating your systems might seem overwhelming, it's actually rather simple. Even those with limited technical skills can make use of automation with a tool like Power Automate. At Bespoke XYZ, we can help train your team to create their own automated workflows or we can implement them for you.
To find out more about our customised Power Automate solutions, just drop us a line and one of our friendly experts will be in touch.